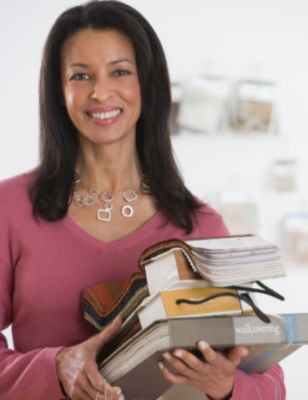 Stoneside's In-home and In-office services
Selecting and ordering custom blinds and shades involves a lot of decisions - including selecting the right shades and materials, deciding on the best options and getting precise measurements for you windows. Relax... Our in-home design consultants make it easy. When you request a free in-home consultation, a designer will give you a call to schedule an appointment. They'll also ask you a few questions during the call to learn more about your needs and make the best use of that appointment time.
During you in-home appointment, our designer will show you sample materials and shades so you can visualize what your new window coverings will look like in your space. They will walk you through all of your options and help you choose the ones that best meet your needs. Next, they will configure your order and give you an estimate for your review.
When you are ready to move forward, the consultant will schedule an installer to come to your home or office to get the exact measurements of your windows so we can insure a perfect fit. The designer will then use these exact measurements to configure your shades in your shopping cat. Now you're all set to buy!
When we've finished manufacturing your blinds to your exact specifications, our installer will call you to schedule the installation. He will install the shades at your convenience, show you how to operate your shades and make sure that everything is perfect before he leaves. If, for any reason, something's not right, he'll work with us to correct the matter so you don't have to.
By utilizing our in-home design and measure and install services, we guarantee your happiness with a money back guarantee.