Chicago
Custom Blinds, Shades & Drapery
Although the Great Chicago Fire of 1971 decimated the area, it rose like a phoenix from the ashes and became one of the greatest cities for architecture in America. Legendary architects such as Frank Lloyd Wright, Ludwig Mies van der Rohe, and Bertrand Goldberg put their stamp on Chicago, building a legacy that is still alive and well today, and renowned throughout the world. Chicago's distinctive style deserves custom shades, blinds, and drapes to match, and you can find exactly what you're looking for at Stoneside.

Chicago's architecture is breathtaking in scope, and it's not just the signature high-rises that comprise the city's world-famous skyline. The neighborhoods are brimming with gems: the Mid-Century Modern structures in Marina City, Art Deco classics such as the Carbide and Carbon Building on Michigan Avenue, or the timeless greystones in North Center. The city isn't stuck in the past, however, as local firms continue to break ground and ensure Chicago remains at the forefront of the global architecture scene. Whether you live in a luxury lakefront condo or an old-school bungalow in Chatham, Stoneside has an incredible selection of custom window blinds, drapery, and shades to choose from.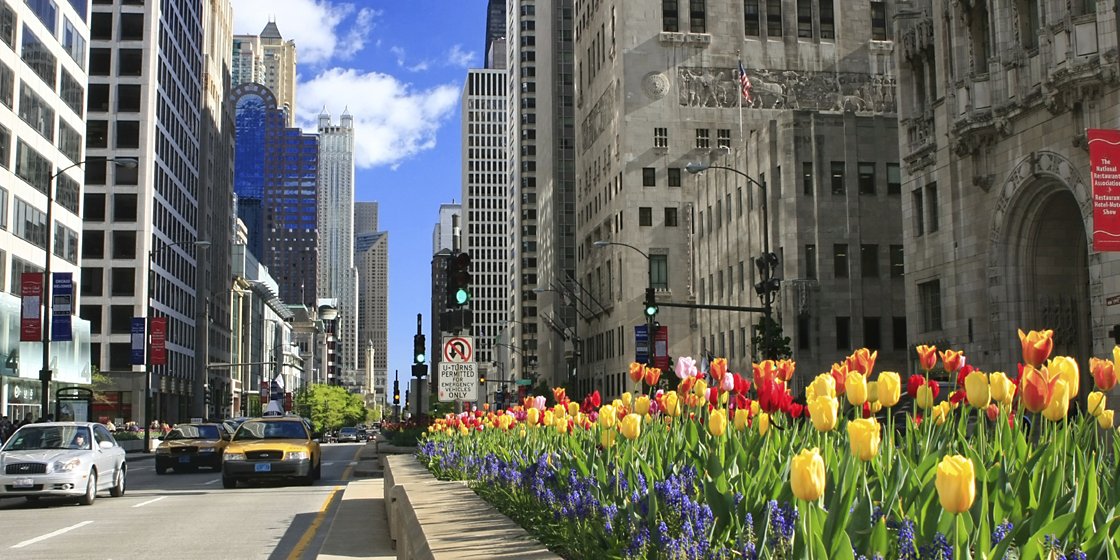 Stoneside has served homes and businesses in the Chicago area since 2010, and we have a portfolio full of stunning designs to inspire your new look. Whether you're looking for smart-home connected roller shades for your loft in the West Loop or transparent solar shades to expand the view in your lakeview condo in Old Town, we'll come to you to design and install window treatments that will truly transform the feel of your space.
To get started, call
773.273.6856
or
Live Chat
to schedule a free virtual design consultation from the comfort of your home with our
Chicago
Design Team.
Transform Your Chicago Home or Office with the Right Window Coverings
When you partner with Stoneside for custom drapes, shades, or blinds, you enjoy five-star, client-centered service, as well as superior window treatments that are
made in America
to your specifications. Our design and installation experts work hard to ensure that you are thrilled with the result and will oversee all aspects of the project from start to finish - a seamless, enjoyable, experience is our goal for you.
The variety of window treatments we offer our residential and commercial clients is unparalleled.
Wood
and
faux wood
blinds add a classic, natural element to any room.
Roller shades
are available in assorted colors, textures, and fabrics, making them a versatile fit anywhere, from a single-family workers cottage to a Beaux-Arts co-op. Residents and office workers who enjoy waterfront views can use
solar shades
or
vertical cellular shades
to control the amount of light and glare coming into their rooms. At the same time, city dwellers may choose blackout blinds and shades for maximum privacy. One of the benefits of working with Stoneside is that you can choose to use any of these window treatments on their own. Alternatively, you can collaborate with our designer to create
custom drapes
you can pair with blinds or shades for a truly personalized touch.
Your Stoneside experience begins with a free consultation, where our designer can present you with window treatment options based on your style preferences and the needs of your home or office. You select the fabrics, color palette, and finishes for your custom window blinds, shades, or drapery, as well as additional options such as decorative embellishments or innovative
motorization
features. Every product in your order will be thoroughly inspected and tested. The final step is the installation performed by our professional technicians. Your space will be transformed.
Luxe Drapery Enhances This Home
The Stoneside team helped this client transform their home in a major way by replacing ubiquitous wood blinds with a variety of roman shades, custom drapery, and transitional shades that brought this beautiful Glencoe home into another dimension of style and functionality.
Featured Product and Material:
Transitional Shades Mirror The Horizontal Lines And Bring A Modern Flair To This Home
Mixed textures bring out the specialty feel in your home! The Stoneside team helped this client combine the textures of vintage wood, brick, and modern transitional shades to create an eclectic yet clean look in their Chicago home.
Featured Product and Material:
Modern Roller And Solar Shades Take It To The Next Level By Working Together
Keep it sleek and modern! The Stoneside team helped this Chicago client achieve multifaceted functionality that mirrors their modern lighting system with roller and solar shades layered together.
Featured Product and Material:
Stoneside
Chicago
Communities served by our
Chicago

Design Team
Stoneside
Chicago

Local Office
Stoneside
Chicago
980 North Michigan Avenue
Suite 1400
60611
By Appointment Only
To get started, call
773.273.6856
or
Live Chat
to schedule a free in-home or virtual design consultation.
Please contact us
by phone or live chat only
during the available hours.