Chicago
Custom Blinds, Shades & Drapery
Although the Great Chicago Fire of 1971 decimated the area, it rose like a phoenix from the ashes and became one of the greatest cities for architecture in America. Legendary architects such as Frank Lloyd Wright, Ludwig Mies van der Rohe, and Bertrand Goldberg put their stamp on Chicago, building a legacy that is still alive and well today, and renowned throughout the world. Chicago's distinctive style deserves custom shades, blinds, and drapes to match, and you can find exactly what you're looking for at Stoneside.

Chicago's architecture is breathtaking in scope, and it's not just the signature high-rises that comprise the city's world-famous skyline. The neighborhoods are brimming with gems: the Mid-Century Modern structures in Marina City, Art Deco classics such as the Carbide and Carbon Building on Michigan Avenue, or the timeless greystones in North Center. The city isn't stuck in the past, however, as local firms continue to break ground and ensure Chicago remains at the forefront of the global architecture scene. Whether you live in a luxury lakefront condo or an old-school bungalow in Chatham, Stoneside has an incredible selection of custom window blinds, drapery, and shades to choose from.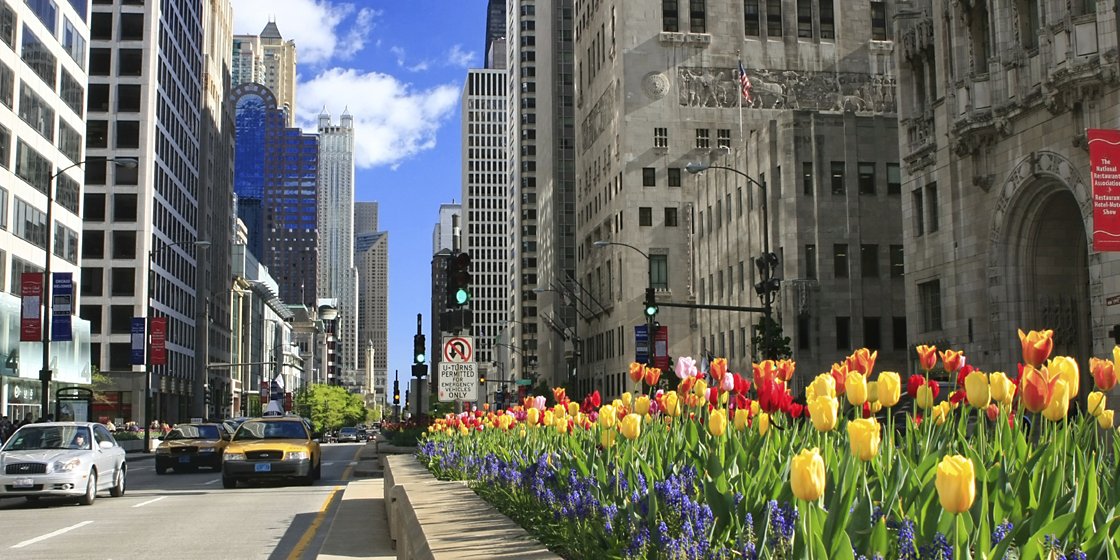 Stoneside has served homes and businesses in the Chicago area since 2010, and we have a portfolio full of stunning designs to inspire your new look. Whether you're looking for smart-home connected roller shades for your loft in the West Loop or transparent solar shades to expand the view in your lakeview condo in Old Town, we'll come to you to design and install window treatments that will truly transform the feel of your space.
To get started, call
773.273.6856
or
Live Chat
to schedule a free virtual design consultation from the comfort of your home with our
Chicago
Design Team.
Transform Your Chicago Home or Office with the Right Window Coverings
When you partner with Stoneside for custom drapes, shades, or blinds, you enjoy five-star, client-centered service, as well as superior window treatments that are
made in America
to your specifications. Our design and installation experts work hard to ensure that you are thrilled with the result and will oversee all aspects of the project from start to finish - a seamless, enjoyable, experience is our goal for you.
The variety of window treatments we offer our residential and commercial clients is unparalleled.
Wood
and
faux wood
blinds add a classic, natural element to any room.
Roller shades
are available in assorted colors, textures, and fabrics, making them a versatile fit anywhere, from a single-family workers cottage to a Beaux-Arts co-op. Residents and office workers who enjoy waterfront views can use
solar shades
or
vertical cellular shades
to control the amount of light and glare coming into their rooms. At the same time, city dwellers may choose blackout blinds and shades for maximum privacy. One of the benefits of working with Stoneside is that you can choose to use any of these window treatments on their own. Alternatively, you can collaborate with our designer to create
custom drapes
you can pair with blinds or shades for a truly personalized touch.
Your Stoneside experience begins with a free consultation, where our designer can present you with window treatment options based on your style preferences and the needs of your home or office. You select the fabrics, color palette, and finishes for your custom window blinds, shades, or drapery, as well as additional options such as decorative embellishments or innovative
motorization
features. Every product in your order will be thoroughly inspected and tested. The final step is the installation performed by our professional technicians. Your space will be transformed.
Frequently Asked Questions
Why are custom window treatments preferred over mass-produced treatments?
Custom coverings can reflect your unique style. Not all homes look the same, so window treatments shouldn't either. By their nature, mass-produced products tend to come in a limited number of styles and sizes. On the other hand, custom treatments can be crafted with your personal aesthetic and sizing nuances of your windows in mind. Further, mass-produced window treatment options are far more likely to show signs of wear and tear after you buy them. Individual slats are fragile and may break or become warped from exposure to sunlight and gravity; fabrics may fade or buckle.
What are the advantages of working with a local window treatment company?
Since we are in your neighborhood, we know what makes your home unique and how to create the perfect solution to transform your space. Our design consultants can come to your home or office to get a feel for how you interact with your space, ensuring that we have a complete understanding of how you want to feel in the room before creating a design plan. Further, our professional installation specialists are able to collect final measurements to ensure everything is going to fit perfectly. Our installation specialists are available should you need assistance with your products, whether it's reprogramming a motorized shade or simply if you have questions and would like a tutorial.
How does Stoneside's five-star design process work?
Our five-star design process ensures you have fun discovering a custom solution to meet your needs! It all starts off with a free in-home consultation with one of our design consultants to help you explore the possibilities. Your design consultant will ask about what you're hoping to accomplish, your needs, your budget, your sense of style, and the vision you have for your home or office. We will share photos, narrow down the options, and look at swatches of our materials to help create an amazing look for your home. Once your order is entered, we'll schedule one of our skilled professional installers to come to your home and perform a final measure. We precision cut every material to spec, so your window treatments fit perfectly. Our skilled technicians carefully assemble, test, and inspect each shade to make sure we meet or exceed your expectations. Finally, on your installation date, one of our installation specialists will arrive on time to install your products, explain each step of the process, and answer any questions.
What window treatments are popular?
Simple, sleek roller shades are one of our most popular products. They roll up into a compact position when not in use and come in a vast array of colors and patterns. Soft treatments are growing in popularity, including Roman shades and drapery. Roman shades are also very popular for their warmth and variety of textures and patterns. Roman shades combine the idea of a roller shade and drapery, folding into a compact stack when not in use while still creating that lush appearance. Custom drapery can create the illusion of taller ceilings and add an elegant, dramatic effect.
How do I choose which window treatments are right for me?
We know how overwhelming the options can be – from product choice to designer accents. We have developed our five-star design experience to help you create the perfect solution to transform your home. Our trained design consultants and professional installers are here to take care of everything from design to installation.
Transitional Shades Highlight A Unique Space
Form and function combine to maintain the individuality of the home. For this unique space in the Chicago suburbs, the designer selected transition shades to bring continuity to the room's theme while providing privacy, customizable light filtering, and ease of use.
Featured Product and Material:
Roller Shades Accomplish Multiple Goals In This Downtown Condo
A triple threat! The Stoneside team helped this client achieve their goals with roller shades that provide UV protection for their beautiful Chicago home, light dimming of the bright sunrise, and ease of use with motorization that allows all 23 shades to be opened and closed with the push of a button.
Featured Product and Material:
Motorized Cellular Shades Reveal A Stunning View
A view you can't ignore! The Stoneside team helped this client control their home's temperature and privacy with cellular shades that complement the modern styling of the room, while motorization enables the beautiful Chicago lake shore view to be revealed at the push of a button.
Featured Product and Material:
Stoneside
Chicago
Communities served by our
Chicago

Design Team
Stoneside
Chicago

Local Office
Stoneside
Chicago
980 North Michigan Avenue
Suite 1400
60611
By Appointment Only
To get started, call
773.273.6856
or
Live Chat
to schedule a free in-home or virtual design consultation.
Please contact us
by phone or live chat only
during the available hours.