Houston
Custom Blinds, Shades & Drapery
There's so much to see, do, and enjoy in Houston - from cultural events to major-league sports - that it's no surprise it's such a desirable place to live and work. There's something for everyone, from artist lofts in the Warehouse District in Downtown Houston to the high-end bungalows in West University. The region is also known for its charming suburbs, such as master-planned The Woodlands and the West Houston neighborhoods Katy and Westchase. Stoneside has the ideal window treatments, no matter the neighborhood or the style of your home.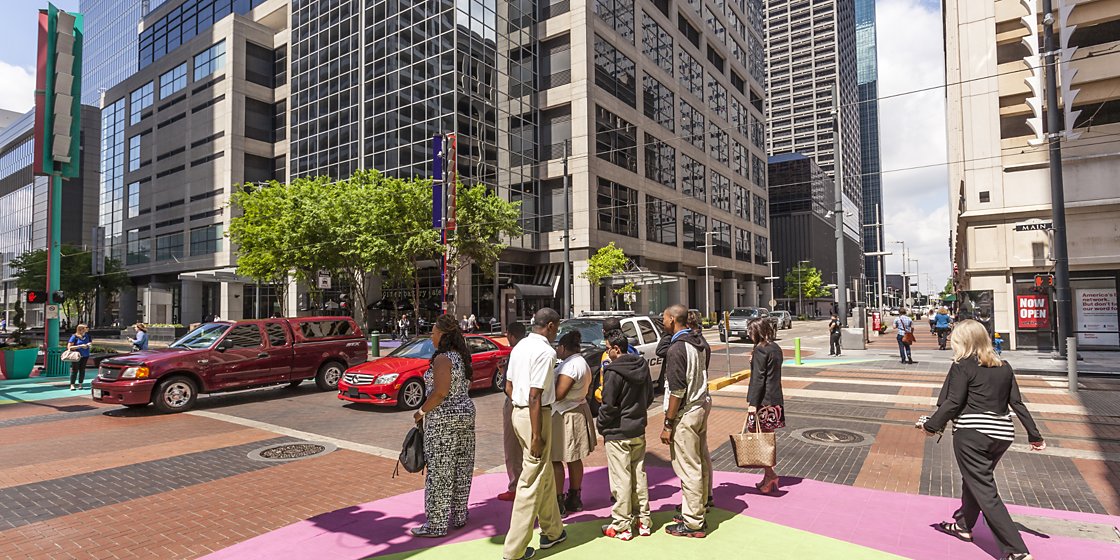 Houston is a treasure trove of rich architectural history. River Oaks and the Museum District are home to sprawling estates dating back to the 1920s and '30s. Beautifully preserved Victorians and Folk National homes abound in Houston Heights. And Mid-Century Modern gems can be found throughout this Texas metropolis. The past and the present coexist side by side in Houston neighborhoods, with plenty of modern and contemporary buildings that catch the eye. To satisfy diverse styles and clientele, Stoneside carries a wide array of custom window shades, blinds, and drapery.
To get started, call
713.936.0790
or
Live Chat
to schedule a free virtual design consultation from the comfort of your home with our
Houston
Design Team.
Window Coverings That Transform Your Houston Home or Office
Stoneside is the top destination for window shades, blinds, and custom drapes in Houston because of our commitment to exceptional quality and customer service. We carry only the finest window coverings
manufactured in the United States
. What's more, we employ skilled, experienced designers and installers whose goal is to deliver the best possible service with great professionalism and attention to detail.
Classic
wood
and
faux wood
custom blinds are well suited for Piney Point mansions or the master-planned homes in Sugar Land. Residents living near the water in Nassau Bay or Galveston Island can take advantage of the UV protection and glare reduction offered by
solar shades
.
Roller shades
and
Roman shades
are a good match for virtually any design style, while owners of more modern homes may favor the distinctive striped pattern of
transitional shades
. We also specialize in
custom drapes
, with hundreds of fabric and design options.
Shopping for window treatments at Stoneside is a true pleasure. That's because we put your needs front and center and handle all the important details every step of the way. The five-star service begins with a free consultation, where our designer helps you select the blinds, shades, or drapery for your residential or commercial project. This is a chance to get creative, not just with the selection of various colors and patterns for your window treatments, but with additional features such as blackout material, decorative embellishments, and
motorization
systems.
Window measurements are checked thoroughly for accuracy, and our craftspeople take great care in assembling your window coverings. The transformation of your space is complete when our in-house technicians install your new window treatments meticulously. We want you to be completely satisfied with your window coverings - and your overall Stoneside experience.
Roller Shades Are A Modern Solution For Sliding Doors
The Stoneside team helped this client bring another layer of complementary color to their Houston kitchen while creating a modern solution for their sliding glass door with roller shades!
Featured Product and Material:
Roller Shades Create A Sleek Accent In The Organic Feel Of This Room
Roller shades are a great solution for doors! The Stoneside team helped this client gain privacy and light control in their Conroe living room with roller shades whose slim profile is perfect for doors like these.
Featured Product and Material:
Transitional Shades Are A Trendy Addition
A unique mix to create the space you love! The Stoneside team helped this client in Pearland transform their living room with trendy transitional shades and a roller shade to complete the look on the patio door.
Featured Product and Material:
Stoneside
Houston
Communities served by our
Houston

Design Team
Stoneside
Houston

Local Office
Stoneside
Houston
5847 San Felipe
Suite 1700
77057
By Appointment Only
To get started, call
713.936.0790
or
Live Chat
to schedule a free in-home or virtual design consultation.
Please contact us
by phone or live chat only
during the available hours.