Houston
Custom Blinds, Shades & Drapery
There's so much to see, do, and enjoy in Houston - from cultural events to major-league sports - that it's no surprise it's such a desirable place to live and work. There's something for everyone, from artist lofts in the Warehouse District in Downtown Houston to the high-end bungalows in West University. The region is also known for its charming suburbs, such as master-planned The Woodlands and the West Houston neighborhoods Katy and Westchase. Stoneside has the ideal window treatments, no matter the neighborhood or the style of your home.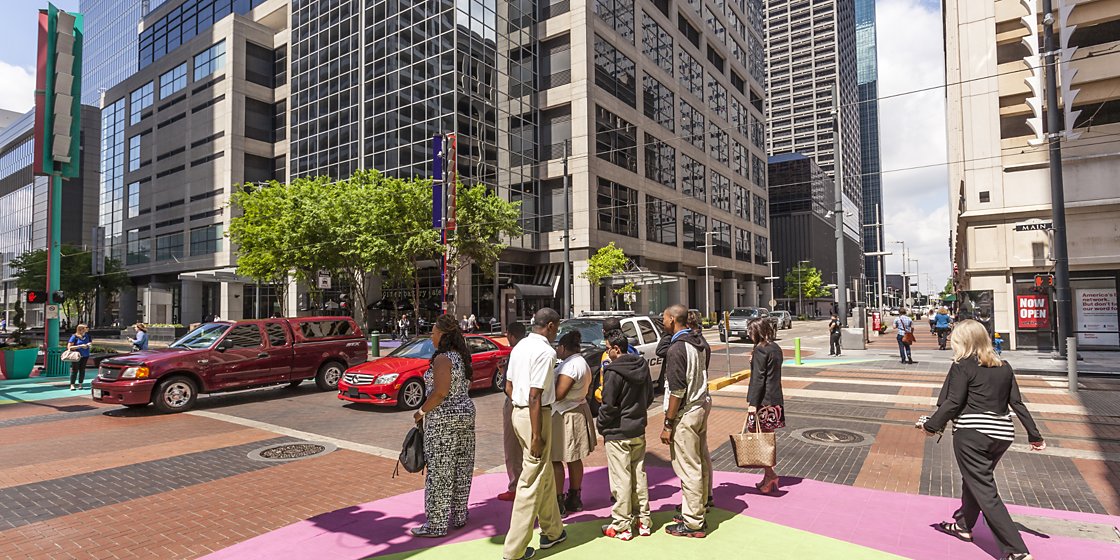 Houston is a treasure trove of rich architectural history. River Oaks and the Museum District are home to sprawling estates dating back to the 1920s and '30s. Beautifully preserved Victorians and Folk National homes abound in Houston Heights. And Mid-Century Modern gems can be found throughout this Texas metropolis. The past and the present coexist side by side in Houston neighborhoods, with plenty of modern and contemporary buildings that catch the eye. To satisfy diverse styles and clientele, Stoneside carries a wide array of custom window shades, blinds, and drapery.
To get started, call
713.936.0790
or
Live Chat
to schedule a free virtual design consultation from the comfort of your home with our
Houston
Design Team.
Window Coverings That Transform Your Houston Home or Office
Stoneside is the top destination for window shades, blinds, and custom drapes in Houston because of our commitment to exceptional quality and customer service. We carry only the finest window coverings
manufactured in the United States
. What's more, we employ skilled, experienced designers and installers whose goal is to deliver the best possible service with great professionalism and attention to detail.
Classic
wood
and
faux wood
custom blinds are well suited for Piney Point mansions or the master-planned homes in Sugar Land. Residents living near the water in Nassau Bay or Galveston Island can take advantage of the UV protection and glare reduction offered by
solar shades
.
Roller shades
and
Roman shades
are a good match for virtually any design style, while owners of more modern homes may favor the distinctive striped pattern of
transitional shades
. We also specialize in
custom drapes
, with hundreds of fabric and design options.
Shopping for window treatments at Stoneside is a true pleasure. That's because we put your needs front and center and handle all the important details every step of the way. The five-star service begins with a free consultation, where our designer helps you select the blinds, shades, or drapery for your residential or commercial project. This is a chance to get creative, not just with the selection of various colors and patterns for your window treatments, but with additional features such as blackout material, decorative embellishments, and
motorization
systems.
Window measurements are checked thoroughly for accuracy, and our craftspeople take great care in assembling your window coverings. The transformation of your space is complete when our in-house technicians install your new window treatments meticulously. We want you to be completely satisfied with your window coverings - and your overall Stoneside experience.
Frequently Asked Questions
Why are custom window treatments preferred over mass-produced treatments?
Custom coverings can reflect your unique style. Not all homes look the same, so window treatments shouldn't either. By their nature, mass-produced products tend to come in a limited number of styles and sizes. On the other hand, custom treatments can be crafted with your personal aesthetic and sizing nuances of your windows in mind. Further, mass-produced window treatment options are far more likely to show signs of wear and tear after you buy them. Individual slats are fragile and may break or become warped from exposure to sunlight and gravity; fabrics may fade or buckle.
What are the advantages of working with a local window treatment company?
Since we are in your neighborhood, we know what makes your home unique and how to create the perfect solution to transform your space. Our design consultants can come to your home or office to get a feel for how you interact with your space, ensuring that we have a complete understanding of how you want to feel in the room before creating a design plan. Further, our professional installation specialists are able to collect final measurements to ensure everything is going to fit perfectly. Our installation specialists are available should you need assistance with your products, whether it's reprogramming a motorized shade or simply if you have questions and would like a tutorial.
How does Stoneside's five-star design process work?
Our five-star design process ensures you have fun discovering a custom solution to meet your needs! It all starts off with a free in-home consultation with one of our design consultants to help you explore the possibilities. Your design consultant will ask about what you're hoping to accomplish, your needs, your budget, your sense of style, and the vision you have for your home or office. We will share photos, narrow down the options, and look at swatches of our materials to help create an amazing look for your home. Once your order is entered, we'll schedule one of our skilled professional installers to come to your home and perform a final measure. We precision cut every material to spec, so your window treatments fit perfectly. Our skilled technicians carefully assemble, test, and inspect each shade to make sure we meet or exceed your expectations. Finally, on your installation date, one of our installation specialists will arrive on time to install your products, explain each step of the process, and answer any questions.
What window treatments are popular?
Simple, sleek roller shades are one of our most popular products. They roll up into a compact position when not in use and come in a vast array of colors and patterns. Soft treatments are growing in popularity, including Roman shades and drapery. Roman shades are also very popular for their warmth and variety of textures and patterns. Roman shades combine the idea of a roller shade and drapery, folding into a compact stack when not in use while still creating that lush appearance. Custom drapery can create the illusion of taller ceilings and add an elegant, dramatic effect.
How do I choose which window treatments are right for me?
We know how overwhelming the options can be – from product choice to designer accents. We have developed our five-star design experience to help you create the perfect solution to transform your home. Our trained design consultants and professional installers are here to take care of everything from design to installation.
Roller Shades Are A Modern Solution For Sliding Doors
The Stoneside team helped this client bring another layer of complementary color to their Houston kitchen while creating a modern solution for their sliding glass door with roller shades!
Featured Product and Material:
Drapery Elongates Tall Ceilings
Adding new levels of grandeur! The designer created this drapery design to allow privacy and light control for these specialty shaped windows while elongating this client's beautiful tall ceilings.
Featured Product and Material:
Brightness And Ultimate Room Darkening
Window treatments can accomplish seemingly opposing objectives. The designer utilized this light-colored roller shade with a metallic valance to bring a lightness to this room while utilizing a blackout feature for ultimate comfort.
Featured Product and Material:
Stoneside
Houston
Communities served by our
Houston

Design Team
Stoneside
Houston

Local Office
Stoneside
Houston
5847 San Felipe
Suite 1700
77057
By Appointment Only
To get started, call
713.936.0790
or
Live Chat
to schedule a free in-home or virtual design consultation.
Please contact us
by phone or live chat only
during the available hours.