Dallas
Custom Blinds, Shades & Drapery
Everything is bigger in Dallas, including the city's sense of style. In University Park, stately Tudor and Spanish Colonial homes are neighbors with contemporary gems of concrete and steel. The Urban Reserve Neighborhood's beautifully designed, eco-friendly homes are a model for sustainable living. And Highland Park is one of the most exclusive neighborhoods not just in Dallas, but in the entire nation. There's a certain grandeur in Dallas' finer homes, and not just any window treatments will make the grade. That's why Stoneside has become a leader in the Dallas area for high-quality custom window coverings that are the height of elegance and sophistication.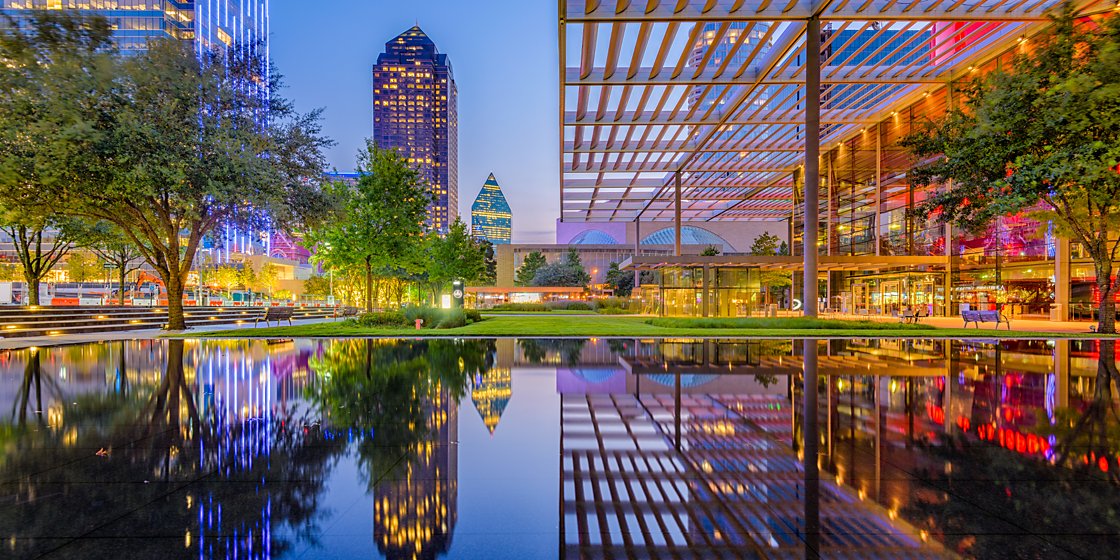 While Dallas is known for its palatial mansions, the city has a rich architectural history that encompasses many stylistic influences. Dallas Eclectic homes of the 20th century boast European flourishes combined with a Texas-size sense of scale. As the century progressed, Dallas Modern Style reigned with its sleek angularity. Today, you'll still see pristine examples of these architectural styles, along with the luxurious high-rise condos staking a claim on the Dallas skyline. To match the different architectures, you can find window shades, blinds, and drapery for any kind of home at Stoneside.
To get started, call
214.254.4887
or
Live Chat
to schedule a free virtual design consultation from the comfort of your home with our
Dallas
Design Team.
Window Coverings That Transform Your Dallas Home or Office
Ordering custom window shades, blinds, and drapery from Stoneside is an experience unlike any other. No detail is too small for us. In fact, it's those details that make our window treatments truly special. Decorative embellishments on shades, finely turned drapery hems, stunning valances - our collection of window treatments is unparalleled. Best of all, these custom drapes, blinds, and shades are all crafted in the
United States
for superior quality and durability. We give you all the essentials you need to create your ideal window coverings.
Timeless Dallas Eclectic homes are a great match for
wood
and
faux wood
blinds that are classics made with custom paint colors and stains. For the utmost versatility,
roller shades
lend any space a clean, streamlined look. What's more, these coverings are easily customizable with a wealth of colors, textures, and patterns. For those days when the hot Texas sun is streaming through your window, guard your fine interiors against UV exposure with
solar shades
. Contemporary buildings mesh well with striped
transitional shades
, while traditional homes get extra flair from
Roman shades
or
custom drapes
, both of which can be made in the fabric of your choice. For the ultimate in convenience, add a
motorization system
for seamless control through an app, remote control, or home automation device.
Our friendly and knowledgeable Stoneside design pros are ready to serve you. During a free virtual consultation, we'll listen to your needs and vision for new window treatments and help you come up with the perfect solution. The right custom blinds, shades, or drapery transform a room like nothing else. Start the transformation of your space and contact Stoneside today.
Frequently Asked Questions
Why are custom window treatments preferred over mass-produced treatments?
Custom coverings can reflect your unique style. Not all homes look the same, so window treatments shouldn't either. By their nature, mass-produced products tend to come in a limited number of styles and sizes. On the other hand, custom treatments can be crafted with your personal aesthetic and sizing nuances of your windows in mind. Further, mass-produced window treatment options are far more likely to show signs of wear and tear after you buy them. Individual slats are fragile and may break or become warped from exposure to sunlight and gravity; fabrics may fade or buckle.
What are the advantages of working with a local window treatment company?
Since we are in your neighborhood, we know what makes your home unique and how to create the perfect solution to transform your space. Our design consultants can come to your home or office to get a feel for how you interact with your space, ensuring that we have a complete understanding of how you want to feel in the room before creating a design plan. Further, our professional installation specialists are able to collect final measurements to ensure everything is going to fit perfectly. Our installation specialists are available should you need assistance with your products, whether it's reprogramming a motorized shade or simply if you have questions and would like a tutorial.
How does Stoneside's five-star design process work?
Our five-star design process ensures you have fun discovering a custom solution to meet your needs! It all starts off with a free in-home consultation with one of our design consultants to help you explore the possibilities. Your design consultant will ask about what you're hoping to accomplish, your needs, your budget, your sense of style, and the vision you have for your home or office. We will share photos, narrow down the options, and look at swatches of our materials to help create an amazing look for your home. Once your order is entered, we'll schedule one of our skilled professional installers to come to your home and perform a final measure. We precision cut every material to spec, so your window treatments fit perfectly. Our skilled technicians carefully assemble, test, and inspect each shade to make sure we meet or exceed your expectations. Finally, on your installation date, one of our installation specialists will arrive on time to install your products, explain each step of the process, and answer any questions.
What window treatments are popular?
Simple, sleek roller shades are one of our most popular products. They roll up into a compact position when not in use and come in a vast array of colors and patterns. Soft treatments are growing in popularity, including Roman shades and drapery. Roman shades are also very popular for their warmth and variety of textures and patterns. Roman shades combine the idea of a roller shade and drapery, folding into a compact stack when not in use while still creating that lush appearance. Custom drapery can create the illusion of taller ceilings and add an elegant, dramatic effect.
How do I choose which window treatments are right for me?
We know how overwhelming the options can be – from product choice to designer accents. We have developed our five-star design experience to help you create the perfect solution to transform your home. Our trained design consultants and professional installers are here to take care of everything from design to installation.
Modern And Classic Styles Combined
With careful consideration, modern and classic stylings can come together to create a cohesive look. The metal headrail and motorization on these cellular shades brings a clean, consistent look to this Cedar Hill living room.
Featured Product and Material:
Roman Shades Create Elegance And Comfort
Create softness with tradition and elegance with design! The designer implemented this roman shade project to allow this Dallas client customizable light filtering with a soft, cozy feel.
Featured Product and Material:
Composite Wood Blinds Bring A Warm Glow To This Living Room
Classic warmth! The Stoneside team helped this client complete their Fort Worth living room with classic white wood blinds that bring a warm feeling into the room without being too dark.
Featured Product and Material:
2 1/2" Fidelis
Designer White
Stoneside
Dallas
Communities served by our
Dallas

Design Team
Stoneside
Dallas

Local Office
Stoneside
Dallas
8117 Preston Road
Suite 300
75225
By Appointment Only
To get started, call
214.254.4887
or
Live Chat
to schedule a free in-home or virtual design consultation.
Please contact us
by phone or live chat only
during the available hours.