Seattle
Custom Blinds, Shades & Drapery
The diversity of Seattle's neighborhoods is reflected in their varied architectural styles. On one end of the spectrum, you have the ornate Queen Anne homes that have long been a Seattle signature. One the other end are contemporary, minimalist structures hewn from natural materials that connect them to the breathtaking Pacific Northwest landscape. In between, you can find Tudor, modernism, and many other types of homes - and don't forget the city's famous houseboats. A city that's so eclectic, when it comes to design, requires a window covering company that can meet a multitude of needs. Stoneside delivers, with its vast selection of high-quality custom window treatments.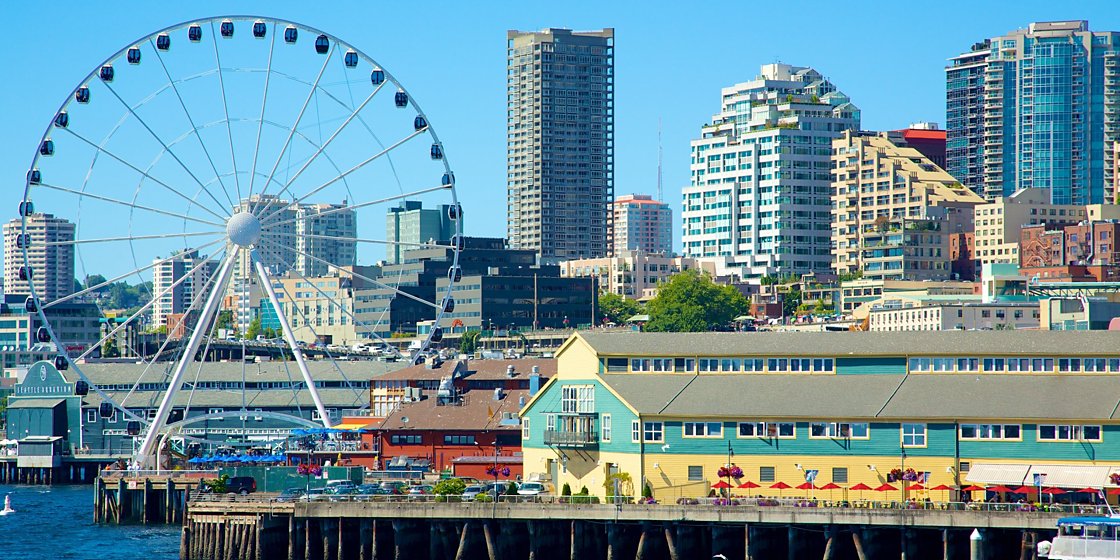 Seattle is a place where everyone can find a neighborhood to call their own. Ballard is a hotspot for people who love exploring trendy, upscale shops and restaurants, while West Seattle's waterfront is a paradise for outdoor enthusiasts who enjoy cycling or kayaking. Young families set down roots in Wallingford, while the tech crowd gravitates to Fremont, where Google and Adobe have set up shop. No matter the neighborhood you call home, Stoneside is the place to go for custom window shades, blinds, and drapery in Seattle.
To get started, call
206.452.0555
or
Live Chat
to schedule a free virtual design consultation from the comfort of your home with our
Seattle
Design Team.
Window Coverings That Transform Your Seattle Home or Office
Stoneside has a reputation for providing the highest quality window shades, blinds, and drapery. We take pride in manufacturing all of our window coverings
in the U.S.A.
, employing skilled craftspeople who take great care to make products that are tailored to your specific project measurements. This highly customized level of service is another Stoneside hallmark and ensures that your window treatments are ideally suited for your home or office.
Timeless
wood
and
faux wood
blinds add a natural touch to homes that embrace the area's surroundings. Our
roller shades
offer limitless customization options, so they fit seamlessly into any home, from Dutch colonials in Madison Park to early 20th century mansions in Capitol Hill. Seattle's houseboats and other waterside buildings can diminish glare with the smart use of
solar shades
. For elegance on par with historic Queen Anne homes, try
custom drapes
or
Roman shades
, either on their own or paired together for a stunning visual statement. Also uniquely visual:
transitional shades
, whose "zebra stripe" appearance is quite distinctive. With our blinds, shades, and drapery, you can add blackout options to give you the ultimate in privacy and light control. What's more, you can add decorative features or convenient
motorization
systems.
Creating custom window treatments is stress-free with Stoneside. During a free consultation, our professional staff listens to your needs and design goals, and helps you brainstorm ideas for your drapery, blinds, or shades. We'll handle all the project details, so you can relax and rest assured that your new window treatments are carefully crafted. Our attention to detail extends to the final installation, which is done by our in-house technicians whose goal is to get the job done right the first time. In Seattle, shopping for window coverings couldn't be easier or more enjoyable.
Frequently Asked Questions
Why are custom window treatments preferred over mass-produced treatments?
Custom coverings can reflect your unique style. Not all homes look the same, so window treatments shouldn't either. By their nature, mass-produced products tend to come in a limited number of styles and sizes. On the other hand, custom treatments can be crafted with your personal aesthetic and sizing nuances of your windows in mind. Further, mass-produced window treatment options are far more likely to show signs of wear and tear after you buy them. Individual slats are fragile and may break or become warped from exposure to sunlight and gravity; fabrics may fade or buckle.
What are the advantages of working with a local window treatment company?
Since we are in your neighborhood, we know what makes your home unique and how to create the perfect solution to transform your space. Our design consultants can come to your home or office to get a feel for how you interact with your space, ensuring that we have a complete understanding of how you want to feel in the room before creating a design plan. Further, our professional installation specialists are able to collect final measurements to ensure everything is going to fit perfectly. Our installation specialists are available should you need assistance with your products, whether it's reprogramming a motorized shade or simply if you have questions and would like a tutorial.
How does Stoneside's five-star design process work?
Our five-star design process ensures you have fun discovering a custom solution to meet your needs! It all starts off with a free in-home consultation with one of our design consultants to help you explore the possibilities. Your design consultant will ask about what you're hoping to accomplish, your needs, your budget, your sense of style, and the vision you have for your home or office. We will share photos, narrow down the options, and look at swatches of our materials to help create an amazing look for your home. Once your order is entered, we'll schedule one of our skilled professional installers to come to your home and perform a final measure. We precision cut every material to spec, so your window treatments fit perfectly. Our skilled technicians carefully assemble, test, and inspect each shade to make sure we meet or exceed your expectations. Finally, on your installation date, one of our installation specialists will arrive on time to install your products, explain each step of the process, and answer any questions.
What window treatments are popular?
Simple, sleek roller shades are one of our most popular products. They roll up into a compact position when not in use and come in a vast array of colors and patterns. Soft treatments are growing in popularity, including Roman shades and drapery. Roman shades are also very popular for their warmth and variety of textures and patterns. Roman shades combine the idea of a roller shade and drapery, folding into a compact stack when not in use while still creating that lush appearance. Custom drapery can create the illusion of taller ceilings and add an elegant, dramatic effect.
How do I choose which window treatments are right for me?
We know how overwhelming the options can be – from product choice to designer accents. We have developed our five-star design experience to help you create the perfect solution to transform your home. Our trained design consultants and professional installers are here to take care of everything from design to installation.
Black Solar Shades Create A Modern Vibe And Cultivate A Warm Glow
The Stoneside team helped this Bothell client complete their trendy salon with black solar shades that keep with the aesthetic of the exterior of the building while allowing the interior to bring in a soft, warm light.
Featured Product and Material:
Grey Solar Shades Pair With Metal Components
Privacy when you need it; light when you don't! The Stoneside team helped this client in Seattle complete their kitchen with grey solar shades to complement this beautiful triple bowl sink.
Featured Product and Material:
Solar Shades Complete This Modern Dance Studio
Dance like no one's watching! The Stoneside team helped this small business owner perfect their Seattle dance studio with dark solar shades that provide climate control and privacy with styling that complements the white sound panels and stained wood ceiling.
Featured Product and Material:
Stoneside
Seattle
Communities served by our
Seattle

Design Team
Stoneside
Seattle

Local Office
Stoneside
Seattle
1420 Fifth Avenue
Suite 2200
98101
By Appointment Only
To get started, call
206.452.0555
or
Live Chat
to schedule a free in-home or virtual design consultation.
Please contact us
by phone or live chat only
during the available hours.