Seattle
Custom Blinds, Shades & Drapery
The diversity of Seattle's neighborhoods is reflected in their varied architectural styles. On one end of the spectrum, you have the ornate Queen Anne homes that have long been a Seattle signature. One the other end are contemporary, minimalist structures hewn from natural materials that connect them to the breathtaking Pacific Northwest landscape. In between, you can find Tudor, modernism, and many other types of homes - and don't forget the city's famous houseboats. A city that's so eclectic, when it comes to design, requires a window covering company that can meet a multitude of needs. Stoneside delivers, with its vast selection of high-quality custom window treatments.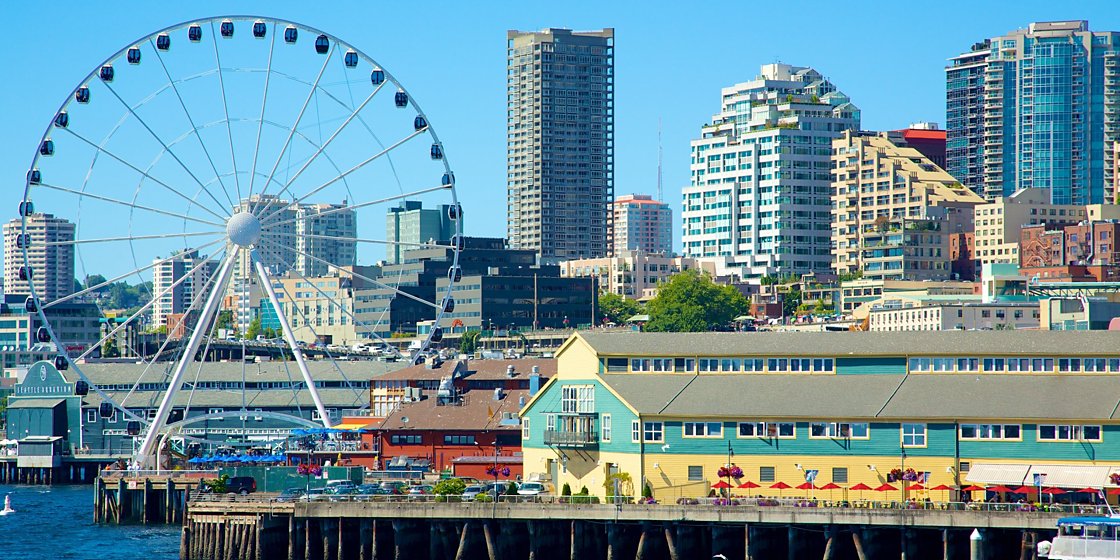 Seattle is a place where everyone can find a neighborhood to call their own. Ballard is a hotspot for people who love exploring trendy, upscale shops and restaurants, while West Seattle's waterfront is a paradise for outdoor enthusiasts who enjoy cycling or kayaking. Young families set down roots in Wallingford, while the tech crowd gravitates to Fremont, where Google and Adobe have set up shop. No matter the neighborhood you call home, Stoneside is the place to go for custom window shades, blinds, and drapery in Seattle.
To get started, call
206.452.0555
or
Live Chat
to schedule a free virtual design consultation from the comfort of your home with our
Seattle
Design Team.
Window Coverings That Transform Your Seattle Home or Office
Stoneside has a reputation for providing the highest quality window shades, blinds, and drapery. We take pride in manufacturing all of our window coverings
in the U.S.A.
, employing skilled craftspeople who take great care to make products that are tailored to your specific project measurements. This highly customized level of service is another Stoneside hallmark and ensures that your window treatments are ideally suited for your home or office.
Timeless
wood
and
faux wood
blinds add a natural touch to homes that embrace the area's surroundings. Our
roller shades
offer limitless customization options, so they fit seamlessly into any home, from Dutch colonials in Madison Park to early 20th century mansions in Capitol Hill. Seattle's houseboats and other waterside buildings can diminish glare with the smart use of
solar shades
. For elegance on par with historic Queen Anne homes, try
custom drapes
or
Roman shades
, either on their own or paired together for a stunning visual statement. Also uniquely visual:
transitional shades
, whose "zebra stripe" appearance is quite distinctive. With our blinds, shades, and drapery, you can add blackout options to give you the ultimate in privacy and light control. What's more, you can add decorative features or convenient
motorization
systems.
Creating custom window treatments is stress-free with Stoneside. During a free consultation, our professional staff listens to your needs and design goals, and helps you brainstorm ideas for your drapery, blinds, or shades. We'll handle all the project details, so you can relax and rest assured that your new window treatments are carefully crafted. Our attention to detail extends to the final installation, which is done by our in-house technicians whose goal is to get the job done right the first time. In Seattle, shopping for window coverings couldn't be easier or more enjoyable.
Cellular Shades Enable Privacy With A View
Window treatments can accomplish more than light filtering. Top-down bottom-up cellular shades were utilized for this project to allow for privacy control without losing the beautiful ocean view of this Seattle-area home.
Featured Product and Material:
Solar Shades Complete This Modern Dance Studio
Dance like no one's watching! The Stoneside team helped this small business owner perfect their Seattle dance studio with dark solar shades that provide climate control and privacy with styling that complements the white sound panels and stained wood ceiling.
Featured Product and Material:
Black Solar Shades Create A Modern Vibe And Cultivate A Warm Glow
The Stoneside team helped this Bothell client complete their trendy salon with black solar shades that keep with the aesthetic of the exterior of the building while allowing the interior to bring in a soft, warm light.
Featured Product and Material:
Stoneside
Seattle
Communities served by our
Seattle

Design Team
Stoneside
Seattle

Local Office
Stoneside
Seattle
1420 Fifth Avenue
Suite 2200
98101
By Appointment Only
To get started, call
206.452.0555
or
Live Chat
to schedule a free in-home or virtual design consultation.
Please contact us
by phone or live chat only
during the available hours.