Washington
Custom Blinds, Shades & Drapery
When you live in a place known for its iconic structures - the Capitol, the Washington Monument - you take architectural design seriously. Whether you live in an Italianate townhome in Georgetown or a Contemporary Greek Revival single-family home in Spring Valley, you want it to convey an innate elegance and sophistication. That's accomplished by taking a thoughtful approach to interior design, with attention paid to the finest details - including your window coverings. At Stoneside, we produce high-quality window treatments by combining superior materials with master craftsmanship. The results are both beautiful and durable, with the ability to transform a room.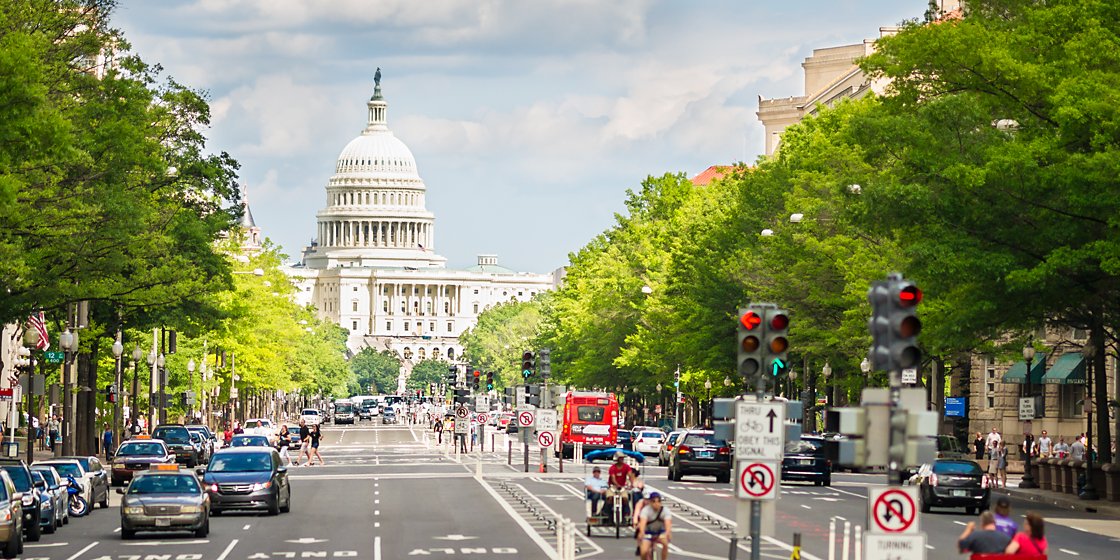 Our nation's capital is the site of America's most famous house, and there are plenty of architectural wonders in Washington, D.C.'s residential neighborhoods. Grand Georgian, Federal, and Colonial homes line the streets, vivid landmarks of our country's history. The city isn't stuck in the past, however - local architecture has evolved to also include Neo Eclectic, Contemporary Shingle, Post Modern, and other, newer styles. Like America itself, Washington, D.C. is a melting pot of styles, and Stoneside has the window shades, blinds, and drapery to suit them all.
To get started, call
202.386.6490
or
Live Chat
to schedule a free virtual design consultation from the comfort of your home with our
Washington
Design Team.
Window Coverings That Transform Your Washington, D.C. Home or Office
Ordering from Stoneside guarantees five-star quality, for both our window treatments and our customer service. Our collection of custom window shades, blinds, and drapery is unmatched, allowing you to get the most out of the design process. With thousands of colors, styles, fabrics, patterns, and textures to choose from, the possibilities are limitless. We are proud to say that all of our window coverings are made
here in the United States
for unparalleled performance.
You're sure to find the ideal window treatment for your Washington, D.C. home or office.
Wood
and
faux wood
blinds have the traditional appearance that blends beautifully with the city's many historic homes, but our wide selection of paint and stain colors gives these window treatments a fresh, modern spin. We also are renowned for our diverse assortment of shades. Virtually any home is a good match for versatile
roller shades
, thanks to their streamlined, simple shape. If your condo near Meridian Hill Park in Columbia Heights gets a lot of sun, you'll appreciate the UV protection your interiors get from
solar shades
. Perhaps you're lucky enough to live near hip Blagden Alley, where boldly striped
transitional shades
fit the artsy vibe. And any stately mansion will get added opulence from
Roman shades
or
custom drapes
crafted from your choice of fabric. To complete your custom window treatments, we also offer distinctive valances, drapery hardware, decorative embellishments, and
motorization
systems.
Our Stoneside office in Washington, D.C. is staffed with design and installation professionals who provide the ultimate in client-centered service. Schedule a free consultation today to learn more about how we can help you create your dream window treatments to elevate the look of your home or office.
Frequently Asked Questions
Why are custom window treatments preferred over mass-produced treatments?
Custom coverings can reflect your unique style. Not all homes look the same, so window treatments shouldn't either. By their nature, mass-produced products tend to come in a limited number of styles and sizes. On the other hand, custom treatments can be crafted with your personal aesthetic and sizing nuances of your windows in mind. Further, mass-produced window treatment options are far more likely to show signs of wear and tear after you buy them. Individual slats are fragile and may break or become warped from exposure to sunlight and gravity; fabrics may fade or buckle.
What are the advantages of working with a local window treatment company?
Since we are in your neighborhood, we know what makes your home unique and how to create the perfect solution to transform your space. Our design consultants can come to your home or office to get a feel for how you interact with your space, ensuring that we have a complete understanding of how you want to feel in the room before creating a design plan. Further, our professional installation specialists are able to collect final measurements to ensure everything is going to fit perfectly. Our installation specialists are available should you need assistance with your products, whether it's reprogramming a motorized shade or simply if you have questions and would like a tutorial.
How does Stoneside's five-star design process work?
Our five-star design process ensures you have fun discovering a custom solution to meet your needs! It all starts off with a free in-home consultation with one of our design consultants to help you explore the possibilities. Your design consultant will ask about what you're hoping to accomplish, your needs, your budget, your sense of style, and the vision you have for your home or office. We will share photos, narrow down the options, and look at swatches of our materials to help create an amazing look for your home. Once your order is entered, we'll schedule one of our skilled professional installers to come to your home and perform a final measure. We precision cut every material to spec, so your window treatments fit perfectly. Our skilled technicians carefully assemble, test, and inspect each shade to make sure we meet or exceed your expectations. Finally, on your installation date, one of our installation specialists will arrive on time to install your products, explain each step of the process, and answer any questions.
What window treatments are popular?
Simple, sleek roller shades are one of our most popular products. They roll up into a compact position when not in use and come in a vast array of colors and patterns. Soft treatments are growing in popularity, including Roman shades and drapery. Roman shades are also very popular for their warmth and variety of textures and patterns. Roman shades combine the idea of a roller shade and drapery, folding into a compact stack when not in use while still creating that lush appearance. Custom drapery can create the illusion of taller ceilings and add an elegant, dramatic effect.
How do I choose which window treatments are right for me?
We know how overwhelming the options can be – from product choice to designer accents. We have developed our five-star design experience to help you create the perfect solution to transform your home. Our trained design consultants and professional installers are here to take care of everything from design to installation.
Roller Shades Are A Timeless Addition
Clean and timeless! The Stoneside team helped this client complete their living room with a clean, modern addition of classic white roller shades.
Featured Product and Material:
Modern Roller Shades Update This Vintage Bathroom's Aesthetic
Adding another flavor to your favorite rooms! The Stoneside team helped this client complete their vintage bathroom in Potomac, with modern roller shades that provide the perfect amount of light filtering without cluttering the bathroom's aesthetic.
Featured Product and Material:
Textured Roller Shades Complement Bold Patio Doors In This Home
A pop of texture! The Stoneside team helped this Chantilly client complete their kitchen with textured roller shades that allow the bold black window framing to shine through while adding a soft dimension to the room.
Featured Product and Material:
Stoneside
Washington
Communities served by our
Washington

Design Team
Stoneside
Washington

Local Office
Stoneside
Washington
2200 Pennsylvania Avenue, NW
Suite 400E
Washington
,
District of Columbia
20037
By Appointment Only
To get started, call
202.386.6490
or
Live Chat
to schedule a free in-home or virtual design consultation.
Please contact us
by phone or live chat only
during the available hours.